College hoops team wins by 102 points blowout!!!!! <<>>
Published on January 19, 2012 by admin · No Comments
From The Arena Pulse:
Located in Georgia, Toccoa Falls College is a member of the National Christian College Athletic Association (NCCCA).
Their basketball team got the opportunity to play a Division I opponent on Tuesday night, but the jaw-dropping statistics came from Western Carolina.
The numbers are almost as surprising as the fact that Western Carolina, a member of the Southern Conference, scheduled this game against Toccoa Falls in the middle of January.
Regardless, the Catamounts improved to 9-10 on the season with a 141-39 beat down of Toccoa Falls.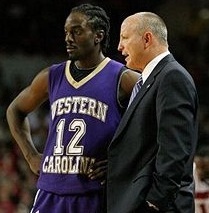 Let's take a look at some shocking statistics from the contest:
Winning Margin- 102 points
Western Carolina First Half Points- 72
Western Carolina Second Half Points- 69
Western Carolina Total Points- 141
Western Carolina FG Percentage- 58.0%
Toccoa Falls FG Percentage- 28.3 %
Western Carolina Made Free Throws- 30
Western Carolina Attempted Free Throws- 39
Toccoa Falls Total Free Throws- 2-of-6
Offensive Rebounding Margin- Western Carolina +19 (22-3)
Total Rebounding Margin- Western Carolina +42 (58-16)
Steal Differential- Western Carolina +18 (20-2)
Toccoa Falls Turnovers- 27
Western Carolina Total Fouls- 9
Western Carolina Players With Double-Digit Points- 9
Western Carolina Scorers- 12 (all who appeared)
Lowest scorer for Western Carolina- 7 (all other players scored at least 9 points)
Western Carolina Bench Points- 84
Western Carolina Bench vs. Toccoa Falls Team- +45 (84-39)
For Western Carolina, putting up these types of numbers can certainly be seen as a confidence booster, but it's probably tough to say if they even improved in the mid-January contest.
"I didn't want anybody showboating, anybody being cute," Western Carolina coach Larry Hunter (pictured above with a former player) said. "It was about us doing what we were supposed to do."
"Our guys were very businesslike. Even after the game, our guys weren't celebrating," he said. "I told our guys even before the game that we were going to play a lot of people. We only had five turnovers."
Tuesday night's contest marked the second time this season that Western Carolina played against a non-Division I opponent. The Catamounts cleared 100 earlier in the year, in a 109-63 thumping of Montreat back on Nov. 15.
Here are highlights from the game:
Western Carolina (9-10, 3-3) returns to the norm on Saturday as it travels to face Appalachian State. Tip-off is scheduled for 3 p.m. EST
Tags: college hoops, Foreign